Nairobi, Kenya: 28 June 2022: The African Venture Philanthropy Alliance (AVPA) and Impact Philanthropy Africa (Impact) today signed a partnership agreement to work together to support the growth of philanthropic giving in Kenya and the region. The two organisations will be collaborating to support corporate and private charitable foundations to have greater impact and explore opportunities for impact investing through innovative funding mechanisms and catalytic investing.
AVPA and Impact Africa Philanthropy are taking the lead in supporting the growth of corporate and private giving and have partnered under a Memorandum of Understanding (MoU), signed on 28th June 2022 in Nairobi, Kenya.
The purpose of this MoU is to provide a structural framework of cooperation, confirm mutual alignment and establish the basis for a strategic partnership between African Venture Philanthropy Alliance and Impact Philanthropy Africa Forum to collaborate in growing and developing the understanding, adoption and application of Impactful Philanthropy and Innovative Financing in East Africa, and eventually Africa.
Why This Is Important
Sub-Saharan Africa is on track to meet only two of the 17 SDGs by 2030: SDG 13 – Take urgent action to combat climate change and its impacts, and SDG 12 – Responsible consumption and production.
The UN estimates that across Sub-Saharan Africa, the annual funding deficit to meet the SDGs by 2030 stands between half a billion to 1.3 trillion US dollars. Traditionally, social funding has come from aid and government funding, but both these sources are declining and/or under increasing pressure. To close this financing gap, we need to rally financing from private capital and financial markets.
Dr Frank Aswani, CEO of AVPA stated, "grant providers have always been big contributors to funding the social challenges on the continent. However, with the demand outstripping the supply of grant funding, there's a need to turn to private capital markets to close this financing gap. This demands a strategic shift for today's philanthropists, one where they play a more catalytic role with their grant capital by testing new markets, new products and new services, that can then be taken over by more commercial follow-on capital. This will ensure that these early-stage, high-impact innovations are more sustainably funded for growth and scale. This way, philanthropists can play a significant role in closing our social investing financing gap by catalysing the crowding-in of private capital into impact opportunities. AVPA is excited to work with Impact Philanthropy Africa in transforming how capital is sustainably mobilised for long-term impact".
Ms Patricia Mugambi-Ndegwa, Head of Secretariat at Impact Philanthropy Africa added that "the corporate and private charitable foundations operating in Africa offer a huge opportunity to not only catalyse additional funds but to ensure current funding is channelled through more impactful philanthropic investments and programs". This is where the collaboration between AVPA and Impact Philanthropy Africa offers great potential, and thus forms the basis for the partnership.
About Impact Philanthropy Africa
Impact Philanthropy Africa is a forum of self-funded corporate and private charitable foundations working in Kenya, and Africa to create social impact. Impact Philanthropy Africa members are committed to the public benefit and their philanthropic purposes and are working to build a culture of corporate social investment (CSI) and influence policy through advocacy and thought leadership.
www.impactphilanthropyafrica.org
About Africa Venture Philanthropy Alliance (AVPA)
The African Venture Philanthropy Alliance (AVPA) is a Pan-African network that seeks to drive a transformative social investing agenda in the continent. AVPA leverages the experience and momentum gained by the European Venture Philanthropy Association, Latimpacto and the Asian Venture Philanthropy Network – thriving networks with a collective membership of 900 members in more than 50 countries and are proven catalysts for mobilising capital and helping members to deploy it more effectively to drive positive change.
AVPA facilitates the flow of human, intellectual, and financial capital, not only within Africa but also from the vast network of members across the 50+ countries outside of Africa. AVPA seeks to support the sector through several key service lines offered to its members.
www.avpa.africa
For more information contact:
Impact Philanthropy Africa
[email protected]
African Venture Philanthropy Alliance (AVPA)
Abu Okari,
[email protected]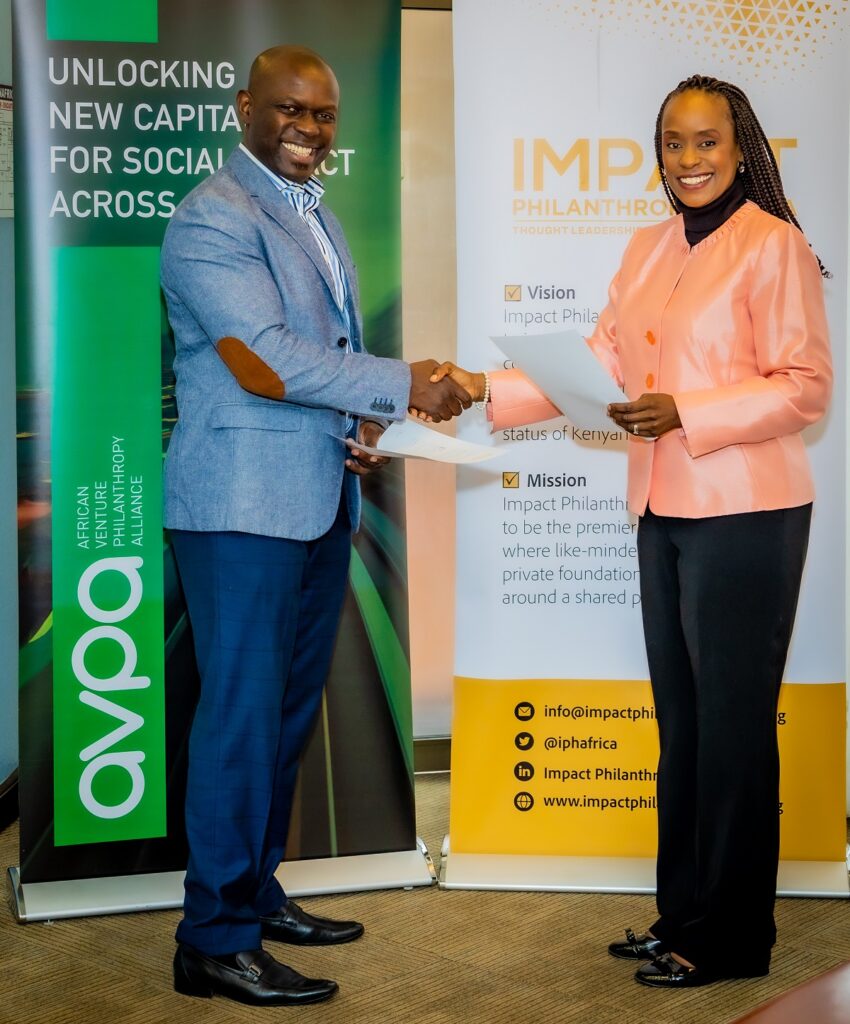 Resources